Winter season is also the flu and cold season which comes with symptoms like coughing, sniffing, and sore throat. The best way to fight these symptoms is to prevent them in the first place. Even though the first thing that most people do to cure their cough is taking lozenges, they are packed with dangerous chemicals which cause numerous side effects, without treating the real cause of the problem.
Cough is a natural reflex to clear the large passages from secretions, microbes, and other foreign particles. So, although it can be quite irritating, cough actually has a beneficial purpose.
Coughing protects us against the dangerous and even deadly chemicals in our increasingly toxic environment. In this way, we are preventing different airborne diseases.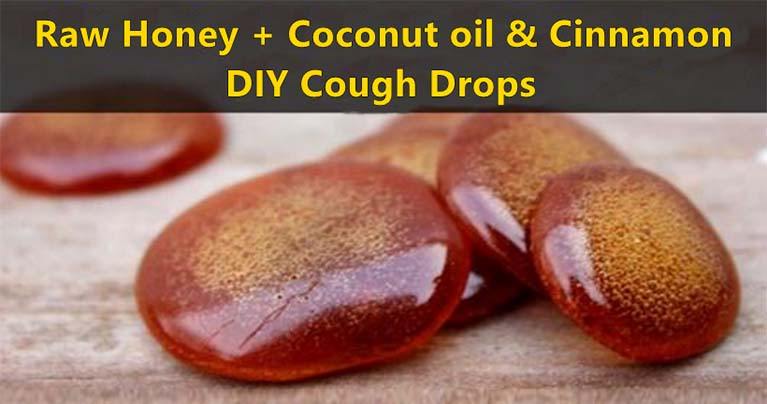 However, a cough can be helpful only if it's temporary and painless, but not if it's chronic. In this way, you must treat it immediately. Proper treatment for coughing needs to address the root cause of the problem, as there are cases when it has to treat the body. Cough lozenges can contain ingredients which relieve congestion and directly affect the heart rate.
Even though ephedrine, dextromethorphan, and pseudoephedrine hydrochloride can suppress the cough, they can interact with other medication, as well as cause side effects.
Here, you'll learn how to prepare natural cough drops which will speed up the recovery time and boost your immune system, thanks to the potent ingredients it contains. Besides being effective, the cough drops are also delicious, so you won't have any problem consuming them.
DIY Cough Drops
Ingredients
100 ml of coconut oil
100 grams of raw organic honey
A pinch of Ceylon cinnamon
Preparation
Whip the coconut oil until nice and frothy. Add the honey gradually, and keep on whipping to get a paste with full and thick consistency. Then, add a pinch of cinnamon. Freeze the mixture by pouring it into empty ice cube trays, and keep them around 30 minutes in the fridge.
[thrive_link color='blue' link='https://www.healthandlovepage.com/methods-stop-coughing-fast-without-medicine/?c=content_button' target='_blank' size='medium' align='aligncenter'] 5 Methods to Stop Coughing Fast Without Medicine[/thrive_link]
Another way to store the mixture is in a glass Mason jar in the fridge. You can keep them for up to two months. You don't have to cough to take these cough drops. You can consume them on a daily basis if you like to prevent cough and cold symptoms.
Health Benefits of the Ingredients
Raw organic honey provides powerful antiviral, antibacterial, and anti-fungal effects which can alleviate a cough and soothe a sore throat. One study has proven that honey can relieve nighttime cough in kids more successfully than the main ingredient in a kids' cough syrup.
Other health benefits of raw honey include treating of breathing difficulties and inflammation in the respiratory system, supporting the intestinal health, and cleansing the liver.
Coconut oil, on the other hand, is loaded with lauric acid which can kill fungi, bad bacteria, and viruses, at the same time protecting you from infections. Moreover, it reduces high cholesterol and blood pressure levels, and supports the absorption of mineral in the bones.
Cinnamon possesses antibacterial and antiseptic properties, which makes it perfect for treating sore throat and coughs. The American Journal of Chinese Medicine has published a study which claims that cinnamon essential oil can slow the growth of numerous fungus and bacteria, such as E.coli, Staph aureus, and Candida.
Via Healthy Food House | Dr.Axe | Diet of Life