Most of you are struggling with different inflammation because of using over-processed foods. When your stomach, intestines or digestive tract are inflamed, you have a problem with digesting and assimilating the food you need. Only a few of you are aware of the everyday battle in your digestive system. However, if you have difficulty in reducing the weight, feel spacey or bloated, it shows that you actually face with a food intolerance.
The unpleasant reaction of some kind of food means that you have a food intolerance. That food is simply not compatible with your immune system and it does not release histamine, which is responsible for regulating physiological function in the gut. This reaction cause unpleasant symptoms. Even more serious symptom of food intolerance is a food allergy. It can cause an immediate reaction, such as the occurrence of cramps, nausea and vomiting.
Solving Food Intolerance – Advice
No one has the ability to be completely healthy, because we all have different sensitivity. Food sensitivity is different for everyone depending on the type of food. Such foods that encourage sensitivity are gluten, milk, eggs, corn, nuts, soy and many others. If you experience any food intolerance, be sure to read the labels on the product itself. It is a very important aspect in eliminating the problems.
Constipation Home Remedies That Will Get Your Bowels Moving
If you perform our advice for changing the diet within five weeks, you will reduce the sensitivity of food and in the next five weeks, you will never feel such problems. With caution in food intake or eventual product replacement, you will revitalize your immune system.
Healthy food stores offer a large assortment of replacement of "problematic" food. These are a suitable replacement of the following products:
Sugar – Raw Coconut Crystal.
Coffee – Rooibos Tea.
Ice Cream – Coconut Milk Ice Cream.
Milk – Coconut Milk.
Yogurt – Coconut Milk Yogurt.
Beer – Hard Cider.
Soda – Kombucha.
Nuts – Pepitas and Sunflower seed.
Peanut butter – Sunflower Seed Butter.
Bread – Lettuce Leaves.
Flour – Coconut or Gluten Free Flours.
Cheese – Daiya Cheese.
Grains – Rice, Quinoa or Gluten Free Oats.
Mayonnaise – Soy Free Vegenaise.
Soy sauce – Coconut Amino.
Salad dressing – flavored vinegar or oil.
Barbeque Sauce – Garlic powder, cider vinegar, mustard or catsup.
Chocolate Sauce – Cacao, Coconut Oil or Agave.
Thickener – Arrowroot Starch.
Protein Powder -Plant based Protein powder.
Chips – Kale Chips.
Seasoning that has preservatives and flavorings – Fresh Herbs, Salt and Pepper.
This will get adequate substitute, amazing taste and enjoy in the food. Moreover, it will improve your immune system and successfully remove possible problems.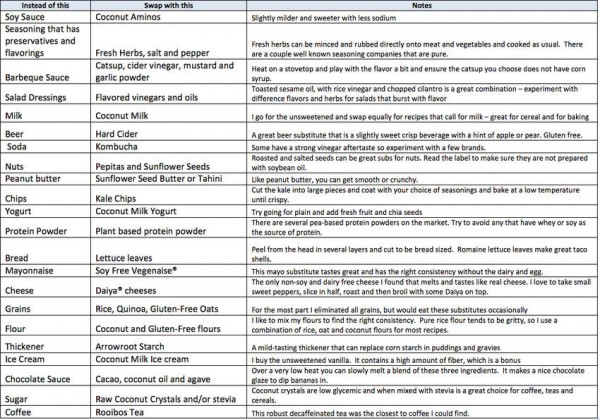 source