Surely, any of you have tasted apple crumble. However, what will happen if you are a little creative and use other fruit for your delight crumble recipe? Here is a suggestion for a fresh-sweet combination – peach and pineapple crumble.
There is no secret for preparing this recipe. Just make sure to buy fresh peaches and pineapples. Many people love this recipe combined with ice cream or frozen yogurt, but summer is leaving and if you do not want to experiment with cold meals, you can prepare this recipe as follows:
Vegan Peach Pineapple Crumble
(Ingredients for 6-8 servings)
2 cups finely chopped fresh pineapple.
3 tablespoons pineapple juice.
3 cups finely chopped, peeled peaches.
2 tablespoons sugar or natural sweetener.
1 tablespoon cornstarch.
1/2 cup flour.
1/4 teaspoon salt.
1 teaspoon baking powder (by Clabber Girl Corporation contains no animal products).
1 cup of oats.
4 tablespoons Healthline.
1/4 cup brown sugar.
Directions:
Throw the chopped fruit in an 8″ square baking dish.
In a small bowl, mix 2 tablespoons of natural sweetener or sugar with cornstarch and ¼-cup flour.
Toss the mixture on the chopped fruit, along with 3 tablespoons pineapple juice.
In a medium bowl, mix the remaining ¼-cup flour, salt, baking powder and brown sugar.
Add the cold butter cubes and use a fork to melt it into the mixture.
During the preparation, add the oatmeal.
Pour the mixture over the prepared fruit and place the baking dish in the oven for 30-35 minutes at a temperature of 350 F, or until bubbles appear from the sides.
Remove the baking dish from the oven and leave it to cool for about 15 minutes.
At the end, you can add fruit yogurt or cream.
Enjoy this peach and pineapple crumble.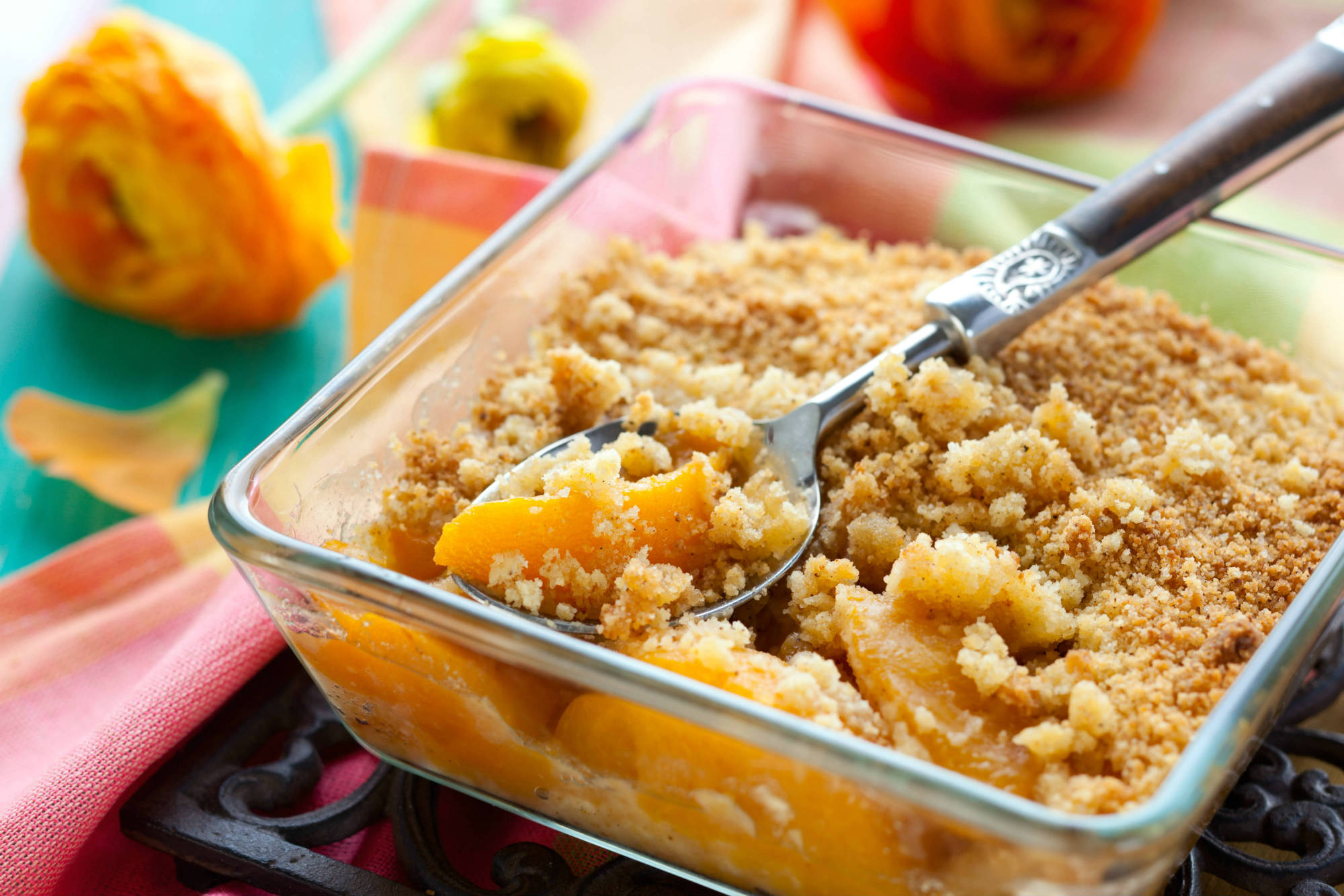 If you are here for the first time, make sure you like Health & Love Fan Page on facebook. Stay tuned for more Healthy & Lovely tips.
Thanks to Key Ingredient for this peach and pineapple crumble – creative delight recipe.