My dreams come true…
I felt the vibrations of his karma even before I had met him, the clown. That day I had got up very early. As the night approached, I was sure I was going to go to bed earlier that evening. I almost put my pajamas on me when the phone rang: Rrrng….rngdgn… -Where are we going tonight? – My friend asked. – Nowhere, I replied. – Oh, you sound like my grandmother! I am at your place in 15 minutes. Put anything on your clothes and we will see what we are going to do. See you later! I didn't even have the chance to say "no" … But I liked this invitation because I had the sensation that "something extraordinary was going to happen" that night. A night that would change my life for good…I Even had a dream of me walking down the square….; Some people go around…; A crowd…; And, MY dreams and predictions ALWAYS come true…
A magnet at the street circus
I and my friend were having coffee in the city square. Nothing special happened, but I still had this sensation that THAT night was the crucial event in my life. We headed along the square and I was only expecting my dream to happen… A street circus was an – going event that night. My friend was going faster than me and didn't notice that I was slowing down. I stopped for a while. I saw a clown…
He Was about 300 feet in front of me… The clown saw me but continued doing his performance, looking straight into my eyes…First, I was imagining that the clown would notice ME in that crowd (in the 300 feet distance). But he DID notice me… He had a really extraordinary look…
A Clown under the make – up
His eyes were full of emotions! The Clown eyes…Were Like two brooks of water running down the falls off a mountain. The people around us were like stones in a river that prevent the water walk its way. But, his x- rays eyes found me in that crowd (the water always finds its way- no matter the obstacles). I couldn't see the color of his eyes in that distance…
But I noticed their shade – the shade of love. Those two " brooks" of feelings were running to find me and fill me with their peace. I felt strange, in a way…My purpose wasn't to find somebody's eyes to make me happy… The eyes of a clown didn't match at all (Did I misinterpret my dream???)…

A/an (fatal) attraction
Slowly, he moved and coming toward me. I was enjoying his performance and he was also (in fact, he always does). He continued looking straight into my eyes… That look… I still remember… Like a cloak, his gaze wrapped around me as if he was trying to embrace me… He did…He Embraced me with his eyes… I saw him, also…I saw… A waterfall, a desert oasis… And he saw a soldier. Yes! I was a soldier (I have been part of many battles) that needed to be saved. I was a soldier that had fallen into an ambush – He (I) needed a rescue badly.
My eyes shouted S. O. S. – He saw the smoke from the flaming trees inside me (that I burned to ask for help). He was the only one to see that flame… There were, maybe, others who saw… But, the only thing they did was walk away. They were looking for fresh air and oxygen. No one gave me his hand (although they could have). They only would see through me and leave me " go down the drain".
A make – up world
I found appealing to be covered with pet costumes. Loose, green trousers, red shirt with stripes, a face covered with makeup: white foundation, big eyes, and red lipstick- that was his world. And, I forgot his smile…He Had a make- up smile… His teeth were pearly white and he was smiling. He was making jokes, fooling around, and making people laugh. The crowd grew into a hilarious laugh and everyone was happy. HE made them happy…
He wore a smile on his face just like his make – up
Was he really happy?!? The clown…He Wore make-up and his smile as if it was part of his costume. He made everybody happy, but who could make HIM happy?!? He was sad (behind that smile). Something bad happened to him? Or, always found amounts of sadness in drops of happiness? His heart was broken, His " clownish" soul was poisoned… He had decided to make everybody cheerful and content (hoping that at least one of those people would draw a smile on his face).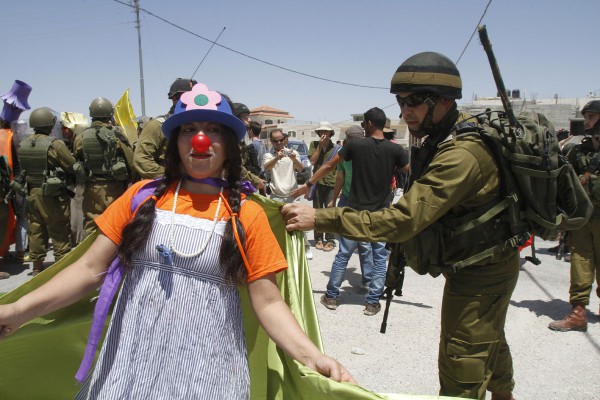 The soldier was saved… His heart smiled…
I was in a way, much like him. I didn't have loose green trousers, a red striped shirt, a purple hat nor much make-up (still I was like him). But, I did have a clown-like smile. I was " dressed in a smile" every time I had walked out the door. I tried to make people laugh as much as I could (people hardly noticed my fake smile). There in the crowd, the two fake smiles became one. His heart smiled after a long, long time (because he had saved the soldier that was caught in the ambush- he saved ME)…
I changed my soldier uniform for the clown – costume
Never in my life have I wondered that I would be rescued by a funny clown. When I think better, my whole life is a big circus show: I have been " walking on a rope''; Fighting with lions and snakes; driving a one-wheel bicycle…Also, I have always drawn a smile on my face. In fact, I liked this circus thing. The clown gave me his hand looking straight into my eyes. I walked into his life without any hesitation. Together, we hadn't had to put on a lot of make-up, nor to draw smiles on our faces. He was my " smiled lips'', I was his…
We were walking through the crowd while people were giving applause for our (this time) fake- free and make- up- free smiles. I felt the vibration from the touch of his fingers; He threw away the sadness that poisoned his heart… The first time I walked in his life- HE changed mine… (We will save on make- up the rest of our life)…
Not always things are as they appear to be… Never believe blindly in smiled faces (it may be a masque to hide a weeping soul)…
 … Dedicated to people with smiled faces and broken hearts…