There are a large number of people who believe that it is crucial to perform a bunch of running exercises and crunches to break down belly fat. While it is true that this type of exercise can help, it is also true that they are among the least efficient exercises.
The good news is that there are many other, more attractive, and probably simpler exercises that can help people trigger core muscles and burn fat and sculpt their muscles at once.
In this article, we will highlight four interesting and efficient exercises like this.
1. Abdominal (Russian) Twist
Now here's a good example of a fun and effective exercise which relies on twisting the core of the body and triggering oblique muscles.
In this way, you will sculpt the midsection, and the belly and you will also finally eliminate those love handles.
To start with, lie down on the floor. Place your feet flat on the ground and keep your knees upwards like you are trying to perform a crunch.
After that, raise the upper body and reach for a 45-degree angle. Next, twist the upper body on the left, and then return to the initial position and twist the upper body on the right. In this way, you have performed one rep. If you believe that you can start doing advanced exercises, you should raise your legs up in the air and keep a dumbbell or any other object with significant weight in your hands.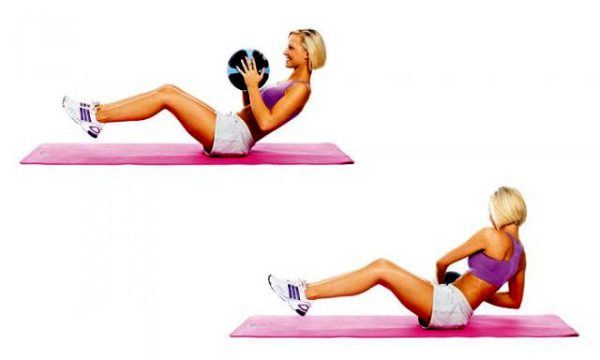 2. Scale Exercise
If you are looking for an exercise focused on toning and fat loss, look no further. This exercise is extremely efficient for the core too. Technically, this is an isometric workout.
For those who didn't know, isometric workouts are workouts where the practitioner keeps the same position without contracting any muscles. This kind of exercise is linked to shrinking levels of fat and people can easily eliminate undesired fat and sculpt muscles in this area too.
Start by sitting down and keeping your legs crossed. The arms must be placed right beside the hips and put directly on the ground. Rely on raw force and press your hands against the ground. Inhale deeply, contract the abs and raise yourself from the ground.
In case you are unable to raise yourself, just put pressure on the moment you feel resistance. Remain in this position for 15 seconds.
3. The Swan Dive
The Swan Dive is another excellent and efficient physical exercise. This time we have the posterior chain in the focus. The human back consists of this type of muscle. It is crucial to have active and fit muscles in this area.
These muscles are able to protect us from injuries and boost core strength. With their help, you will be able to finish core exercises safely and without any hassles. The vast majority of exercises focused on the core are based on the activity of the posterior chain.
This means that in case these muscles are not strong and flexible, you won't get the most from this type of exercise.
In order to start with this activity, stretch the arms right in front of you. At the same time stretch your legs behind you. Carefully raise the arms and legs to the maximum. In case you find this exercise hard, don't raise your legs. Remain in this position for 15 seconds.
4. V Exercise
This is actually a yoga pose that has proven to be great for the elimination of fat and strengthening of the stomach. Just sit down on the ground and stretch the legs in front of you. After that, grab the toes. You can grab the calves in case you can't reach the toes.
The reason why you need to hold on to your calves or toes is to get extra balance.
Rely on the momentum or lean backward. While doing this, contract the abs and create a V shape pose.
In case you find this exercise very easy, don't hold yourself to the calves or toes and keep the same pose. Keep in mind that such an activity is difficult and beginners should avoid it. Remain in this position for about 15 seconds.
How to Perform These Exercises?
There is no doubt that each of these exercises will make you get fit. In addition, you must stick to the schedule.
Start this routine by performing four sets of Russian twists. Perform five reps in the initial set. Perform between eight and ten reps in the second and third sets.
In the last set, try to make as many reps as you can. If this is difficult for you, cut the number of reps.
Take a break between each set. The break should last between 30 and 45 seconds.
As we have already mentioned, the remaining three exercises are isometric which means that you won't need any repetitions. The basic goal is to stay in each of these poses for between ten and fifteen seconds.
If it is possible, stay a little bit longer. Make short breaks before performing each pose. These breaks should be very small – for instance, if you have remained in some pose for 10 seconds, you should take a break that lasts for 20 seconds.
Via NDTV